WHEREVER LIFE TAKES YOU.
Music fuels and complements so many of life's passions, and you want to take yours with you — wherever you go. The SoundLink Flex Bluetooth speaker is the perfect musical sidekick, with a rugged design able to withstand water, dust, and a few bumps and bruises along the way. Whether you're hiking in the mountains or having friends over for dinner, the powerful SoundLink Flex will amaze you with lifelike performance and deep, rich tones that elevate any moment.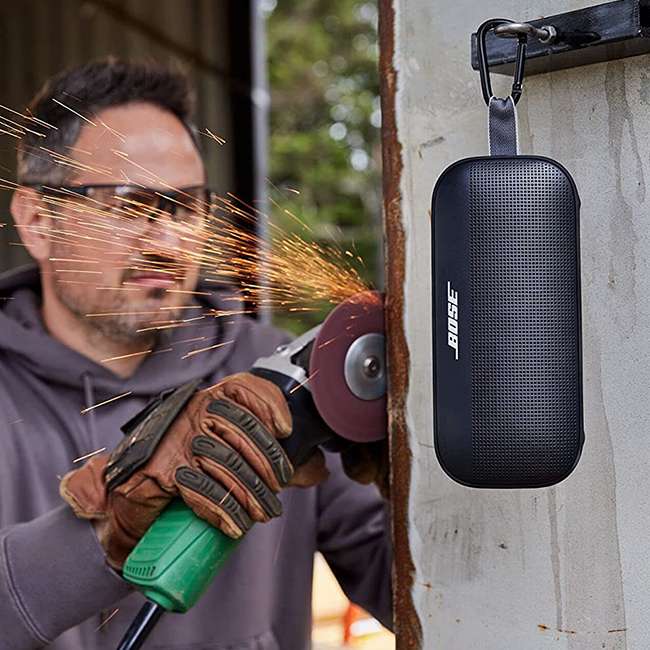 Rich sound to elevate your passions
You feel a strong, deep connection to the places you go. Makes sense you'd want that same feeling for your music. This is where SoundLink Flex shines. The sound is crisp, clear, and free of distortions, so you can hear each instrument and nuances in the vocals. The treble and bass are balanced, allowing you to hear every pitch. And its powerful bass can boom and project music that energizes and makes you rock your head. It's all made possible with innovative technology housed in a beautiful, versatile design.
Survives spills, dips, and more.
Rigorously tested to meet an IP67 rating, SoundLink Flex is waterproof. Dunk it in water, and it'll keep on playing. It even floats, so it won't sink to the ocean floor if it falls off your paddleboard. The speaker is also protected against dust, so you don't need to worry if it gets sandy at the beach. To ensure further protection from water, dust, and debris, the transducer and passive radiators underneath the steel grille are built with rugged, waterproof materials and sealed tightly to the speaker's housing.